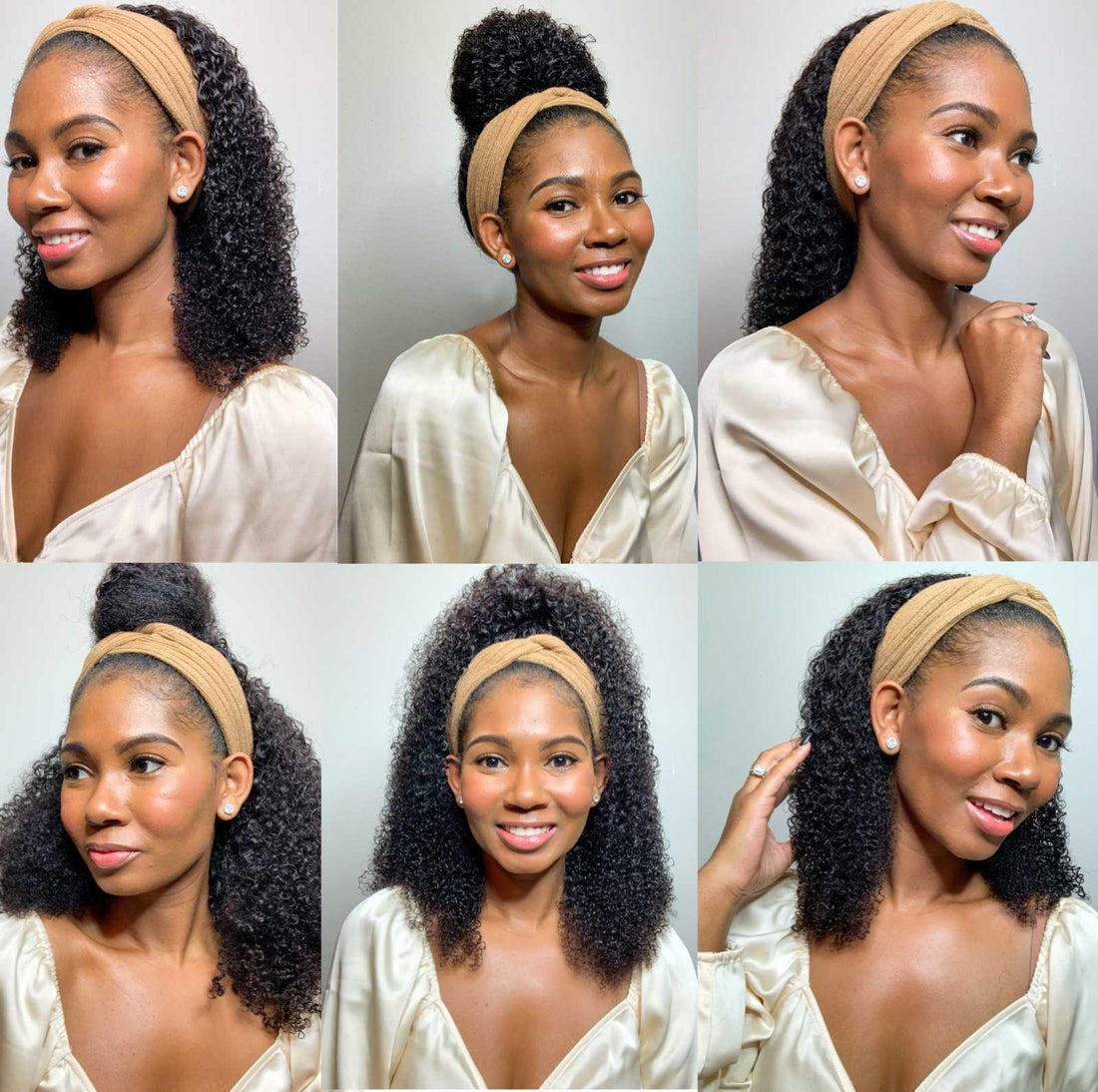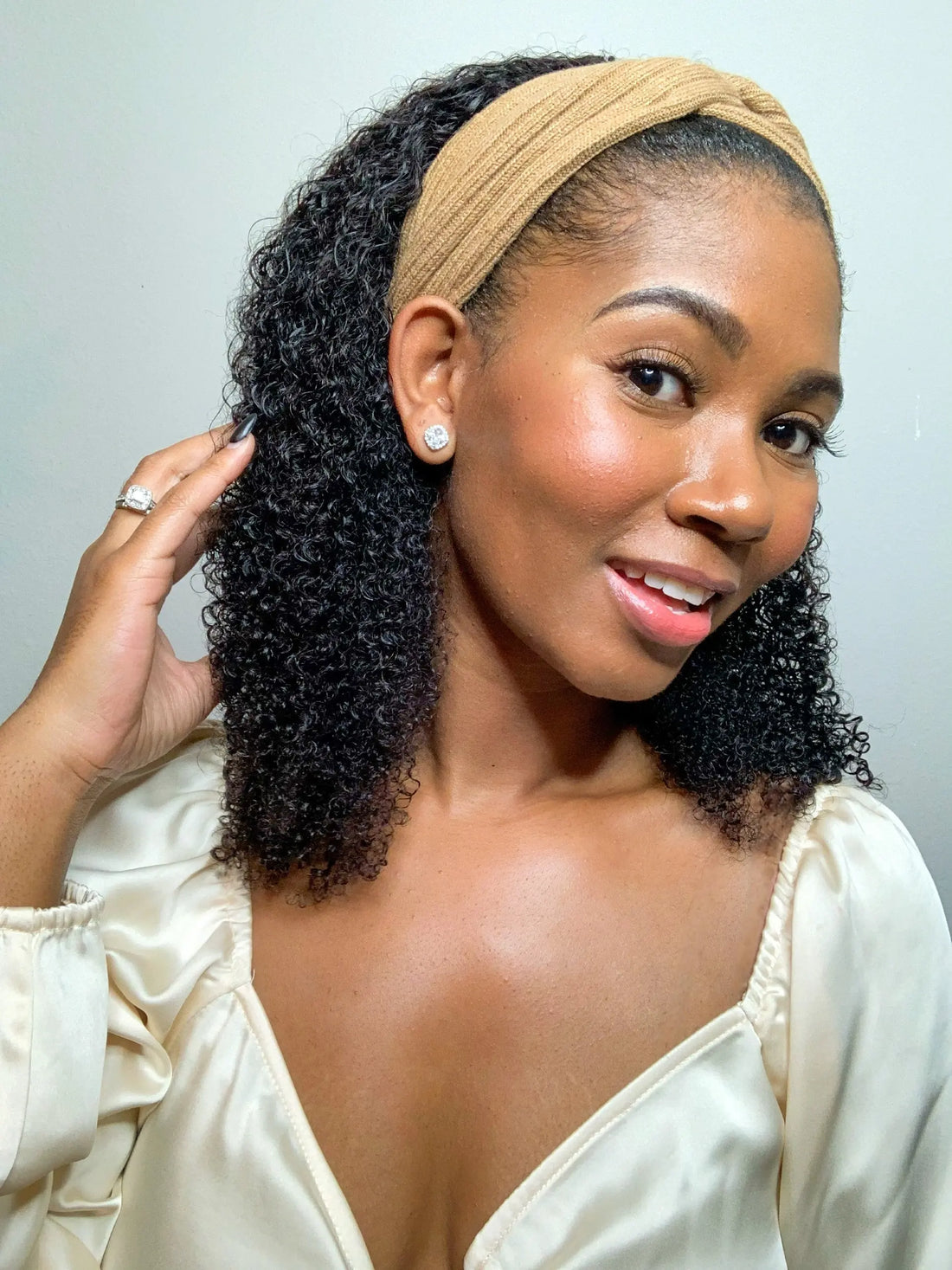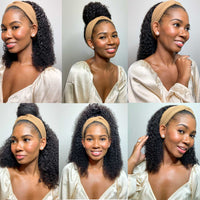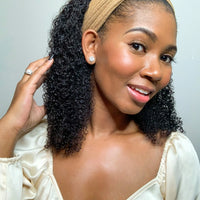 Jasmine Coil - Truly Easy Grab N Go Headband Wig
Beautiful Headband Wig 
Beginner Friendly, Fail-Proof, Grab N Go Headband Wig in premium True + Pure Texture.
Our Truly Easy® premium headband wig is a wig that can change quickly into five or more chic and easy hairstyles.

Our luxury Headband wig combined with a soft yet easily covered tension-free headband will prove to be one of the best additions to your protective wig collection. 
Our premium headband wig is the perfect choice for beauties who want the best hair. No complicated steps, no glue, and no lace blending whatsoever, all while showing their natural hairline without complex blending. No lace melting is necessary. Instead, quickly wear a chic bun, top knot, or flowing length - all while confidently using your natural hairline. 
The Truly Easy® Grab N Go Headband Wigs have secure adjustable straps in the back and four comfortable combs sewn inside to provide protection. So easy to install, longer, fuller extension hairstyles can be worn without using any complex skill, glue, tape, or other adhesives. 
100% Premium human virgin hair
Texture: Jasmine Coil
Headband Wig Cap Size: 21.5 inches, discreet velcro panel in the back to adjust the fit for all head sizes
Wig Length: 20 inch
One Free T+P Fashion Headband 
What are the Benefits of the Truly Easy® Grab N Go Headband Wig?
Headband wigs are among the most popular wigs on the market and are now available in our inclusive True + Pure Texture Collection. Our premium human hair headband wig is perfect for any occasion -from last-minute Zoom meetings, parties, date night, travel, and more. Its best benefit is that it's the ideal "workout wig" and is ready to go in 5 minutes or less. 
• Designed to utilize your own hair/hairline. You can cover it with the headband or cover the headband with your hair. You can wear your hair out to protect the line or add a headband or scarf. So fashionable and cute. Great for daily wear, parties, or any other occasion. 
In 2-8 minutes, cute looks with our Truly Easy® Grab N Go Headband Wig.
Save time, look gorgeous, and protect your hair.
Details About This Texture
Our 4b and 4c texture is Afro Kinky Curly Coily realness for highly textured beauty styling. This hair provides ultra volume, realistic texture, and style statement. Jasmine Coil texture is convenient for blending with coily natural hair.

Jasmine Coil texture is convenient for blending with most natural hair. Organically zig-zag coils and flawlessly kinky natural hair extensions are so versatile that they can be twisted, wanded, blown out, afro, and more.

• 4B - 4C
• Zig Zag Coily

This texture is available in Extensions, Clip-Ins, Ponytails, TruPart™ Wig, 4x4 Lace Closures, and Lace Front wigs.

Tags: Human Hair Wig, Lace Front Human Hair Wig, Lace Front Wig Human Hair, Front Lace Wig Human Hair, Front Lace Human Hair Wig, Human Hair Wig Lace Front, Human Hair Lace Front Wig, Wig Lace Front Human Hair, Wig Human Hair Lace Front, Human Hair Wig With Lace Front, Human Hair Wigs With Lace Front, Wigs Lace Front Human Hair, Lace Front Human Hair Wigs, Wigs, Human Hair Lace Front 
The texture you receive in your package will be flat due to packaging and shipping.The actual texture of the hair will be revealed after you shampoo/co-wash, brush through the hair and allow to air dry.
The length of the hair is measured when the hair is stretched. Curly hair shrinks in its curly state. Following the instructions for care of your True + Pure Texture piece(s) will reveal it's true curl pattern as seen in our videos and images.
Although it can take up to 72 business hours to process orders, most are processed sooner.
Please note weekends and holidays are not processing days.
Once your order has been processed you will receive a shipping notification email. Once shipped, please allow 3-6 business days for First Class and 1-2 business days for Priority Express to receive your package.